Windham Tech Teacher Announced as CTECS Teacher of the Year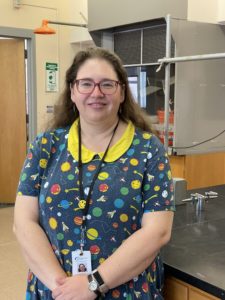 May 4, 2022; Hartford, CT – Rebecca Cipriani Reyer, a science teacher at Windham Technical High School, located in Windham, CT, has been named the Connecticut Technical Education and Career System (CTECS) Teacher of the Year, Interim Superintendent of Schools Dr. Ellen Solek announced today.
"CTECS is so fortunate to have a teacher like Rebecca Reyer," said Interim Superintendent Dr. Ellen Solek. "She is tremendously passionate about science, her students' learning and their future success. She is a shining example of teachers who 'go the extra mile' for their students. I am honored to recognize her as the 2022 CTECS Teacher of the Year."
In 2018, Reyer was recruited to teach physics at Windham Tech. Prior, she was working in the training department at Millstone Nuclear Power Station. She has since taught honors physics, advanced topics in science, general science and forensics. Next year she will take on chemistry.
"I strongly believe that students need to be involved and excited about learning in order to succeed," said Reyer. "High engagement is even more critical in our technical high school environment, as so many of our students are hands-on learners. Lucky for me, when taught properly, science is a natural fit. Almost every class period involves some sort of an active, minds-on experience."
Reyer also acknowledges that teaching goes beyond academics.
"To support academic success, I must also focus heavily on supporting social-emotional issues and building relationships."
She regularly sends home "good news" cards to recognize student accomplishments, celebrates all student birthdays – even the summer ones, and collaborates with school staff and families to support students in need of extra help.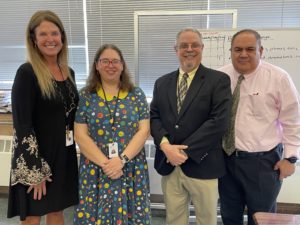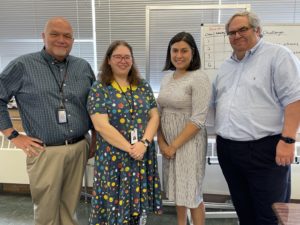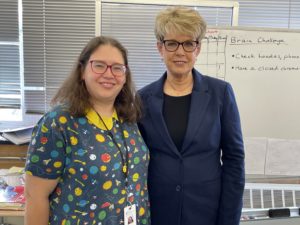 In addition to her teaching responsibilities, Reyer leads the school's Student of the Month Committee; is secretary for the Science Professional Learning Community; a member of the Staff Club, the Health and Safety Committee, and the Scheduling Committee; and regularly applies for grants that benefit the classroom.
"Rebecca Reyer is very deserving of the Teacher of the Year award," said Windham Technical High School Principal Eric Hilversum. "She radiates positivity, is readily available to her colleagues and students, and is committed to the mission of Connecticut's technical high schools. Her enthusiasm to seek out professional development in her content area and pass her knowledge on to students is unmatched. Windham Tech is proud to have her on our teaching staff."
As a science teacher, Reyer works hard to stay current in her content area. She frequently engages in authentic, global scientific research projects over the summer. Most recently, she served as a Research Assistant for Global Climate Change on a Teen Team Earthwatch Expedition at the Churchill Northern Studies Centre in Canada. This summer, she will serve as Teacher Facilitator for Earthwatch's Girls in Science Marine Mammal Bioacoustics and Conservation Fellowship at Woods Hole Oceanographic Institution.
"Not only do these experiences keep me current in scientific developments and allow me to enrich my classroom lessons, but nothing grabs a student's attention on the first day of class quite like finding out their teacher spent the summer chasing polar bears across Hudson Bay," she said.
"Rebecca's passion for science is contagious and second only to her dedication to her students. She is an amazing teacher and we are lucky to have her," said Makenzi Hurtado, State Vocational Federation of Teachers Vice President.
"As Teacher of the Year, my message [to teachers] is that all students can learn. All students can be engaged. All students can succeed, but only with teamwork, support, and courage. It is up to us as their community to find the magical combination to unlock the incredible potential in each of our students. Creativity and caring are key to preparing our students for success in career, college, military, and life."
Reyer will compete in the 2022 State of Connecticut Teacher of the Year competition this summer. Learn more: https://portal.ct.gov/SDE/TOY/Connecticut-Teacher-of-the-Year-Program