College and Career Readiness
Beyond demonstrating mastery of core academic skills and knowledge in English Language Arts (ELA) and Mathematics, CTECS has identified target indicators as measures of career readiness and preparation. The target indicators represent a progression of career-related experiences and performances in subject areas over the course of a student's career in the CTECS.
College and career readiness means that a high school graduate has the ELA and Mathematics knowledge and skills necessary to qualify for and succeed in:
Entry-level, credit-bearing courses without the need for remedial course work; and
Post-secondary job training and/or education necessary for his/her chosen career pathway.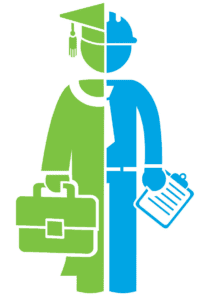 Getting students life ready
Work Ready
Meets basic expectations regarding workplace behavior and demeanor.
Indicators of achievement: Number of students participating in a Work-based Learning (WBL) program.
Job Ready
Possesses specific knowledge necessary to begin an entry-level position.
Indicator of achievement: Number of students who have obtained industry recognized portable, stackable credentials.
Career Ready
Possesses knowledge and learning skills necessary to succeed in a certificate program.
Indicator of achievement: Number of graduates completing dual enrollment courses at community colleges or state universities.
College Ready
Is prepared to succeed in general education courses.
Indicator of achievement: Number of students who have enrolled in post-secondary education with no need for remediation in English or Mathematics.