CTECS Spotlights Windham Tech's Abayomi Wilson
CTECS Teacher Spotlight: Abayomi Wilson – Windham Tech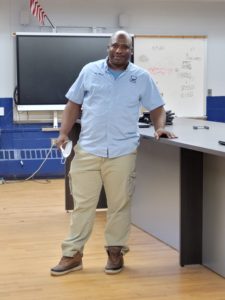 Abayomi Wilson, Information Systems Technology DH at Windham Tech, did not want to be in the spotlight. In fact, he tried to track down the person who recommended him for this article. But when Wilson started talking about his students and their accomplishments, he glowed with pride.
For several years, Wilson has involved his students in CyberStart America programs and competitions. It started with CyberGirls. As the name implies, this competition was only for girls. Wilson's girls performed very well, placing third in Connecticut and making the national teams.
CyberSmart America is a four month long online competition that is intended to identify and recruit students to the cybersecurity field. High schoolers around the country must complete a series of challenges related to cybersecurity. Students do not need to have any prior knowledge of cybersecurity to participate. While these challenges are referred to as gamification challenges, Wilson made it clear that his students were not just playing around. Students had to apply what they were learning in challenges to cybersecurity puzzles, code breaking, networking, and more. And, all of this had to be done as a supplement to their already full IST curriculum.
In 2020, Governor Lamont announced that Connecticut would again be participating in CyberSmart America. For the first time, the program would be open to all students. Wilson shared that this was an amazing opportunity for his IST students for many reasons. As one would imagine, IT and cybersecurity specifically, are high need and ever-changing fields. No matter how robust a curriculum, it is challenging to keep up. Through this competition, students are introduced to problems and solutions that are relevant right now.
At the end of the competition, the students were ranked. Scholars were the 540 highest scoring students and Finalists were the 862 highest scoring students. Scholars and Finalists both were awarded free access to the summer Cyber Foundations Academy (a $4,000 value). Scholars also earned a $2,500 scholarship to the college of their choice. Of the 11 Scholars from Connecticut, seven were from Windham Tech. Two of the Finalists were also from Windham Tech.
As if these accomplishments were not enough, Wilson's students continued to impress. Six students were able to participate in the summer program. The summer program was also sponsored by the SANS Institute. Wilson explained that this is the premier cybersecurity company in the world. Students learned about careers in cybersecurity, cybersecurity issues facing the world today, and had the opportunity to earn their GIAC Certification. This certification is the highest standard in cybersecurity certification. At the time of this interview, four of Wilson's six students had earned their certification and one was preparing to try for the certification again.
It was amazing to learn of all the accomplishments Wilson's students were able to achieve. But, perhaps more important than any of the awards was the way that Wilson's students began to see themselves. Through these challenges, and with Wilson's support and guidance, his students were able to see what he had always seen in them – potential.